---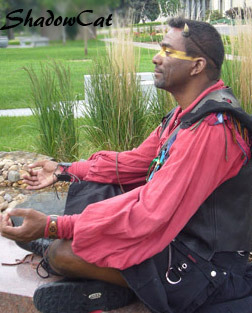 Name:   ShadowCat, Thief of Sorrows, Prince of Dreams.
Residency:  The Dreaming. My house is made of Moonlight and Stardust and is as big or as cozy as I want it to be.
Birthplace:   I was born in a faerie circle within a grove where Satyrs play and Nixies romp. I've been told I was born in Southern Avalon, if you want the Mundane answer.
Occupation:   Drummer, singer, song writer and art monkey supreme!
Court you are part of:  I am a member of Oberon's court, the Summer Court.
Favorite Color:   My fave color is green 'cuz that's the color of cool.
Favorite Stone:   I loves me some Hematite, it's just so shiny.
Favorite Books:   I Have No Horns Yet I Must Prance by Kiddeon and Dream Bopping for Dummies by Luna Nightwander.
Favorite Food:   Dreamsicles are wonderful and Moonpies are great comfort food.
Favorite type of Music:   Dark, faerie, Celtic a cappella music is my fave.
Favorite Musicians:   Sting, Level 42, Clannad, Rubiee, September and Nessa.
Favorite article of clothing:   I like all of my hangy bits (sahses and fringe) - Not only do they sway with me when I dance, they're also awesome cat toys!
Hobbies:   In my spare time I like to draw and I love watching mortals play twister (I can watch them for hours). I also enjoy visiting a little known steampunk dream world called Ashelon..
Likes:   I like to dream and really love rooting for the Chutney Cannons.
Dislikes:   I dislike the color Turquoise with an unseemly passion. I also dislike tawdry hand puppets and designer knock-off crayons
Anything else you should know:
You should
visit my art site
and buy my stuff. (I'm going by my Mortal name "Chaz Kemp" - It makes me sound human.)