---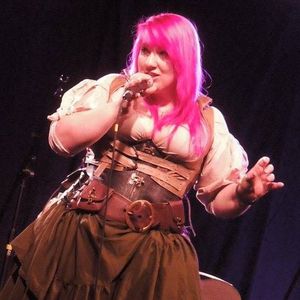 Name:    Rubiee Tallyn Hayes
Residency:    In Faerie her holdings are called Shadow Grove, in the mortal realm she resides in Denver, Colorado.
Birthplace:    First spotted in the Mortal realm in the city of New Orleans.
Occupation:    Artist, Dreamer, Maker of Shiny things, owner of Dryad Tea… Courtier and Diplomat for Queen Mab.
Court you are part of:    The Winter Court, ruled by Queen Mab.
Favorite Color(s):    green, purple, silver, black
Favorite Stone:    Quartz, Amethyst, Onyx, Peridot and there are probably more, because shiny.
Favorite Books:    The Black Jewels Trilogy by Anne Bishop, The Last Unicorn by Peter S. Beagle, The Rosemary and Rue series by Seanan McGuire, The Princess Bride, The Princess Series by Jim C. Hines... The list goes on...
Favorite Food:    Sushi, almost any seafood, pasta (especially when it involves cheese)..
Favorite type of music:    I'll try anything once.
Favorite Musicians:    SJ Tucker, Gaelic Storm, Great Big Sea, Kerli, Blue October, AFI, Flogging Molly, Papa Roach, Saving Abel, Nightwish, Wicked: The Musical, Paramore, Dido, Loreena McKennitt, Disney Soundtracks, Linkin Park.
Favorite article of clothing:    My corsets and key belt. :)
Hobbies:    Singing, glitter bombing, gaming, renfaires, writing, pottery, making shiny bits, sewing, laughing (yes, that's a hobby)...
Likes:    Reading, writing, TEA, roleplaying (White Wolf, D&D, LARPing), video games (World of Warcraft, and rpgs), sparring (foam swords wrapped in duct tape), sharp things, keys, glitter, BPAL, sushi, music, art, shiny things (gemstones, crystals, glitter)..
Dislikes:    Most spiders, fanatics, poor writing mechanics, theft, people without respect for others, hate.
Anything else you should know:
Rubiee is the Duchess of Shadow Grove, the holding was given to her by Queen Mab as a showing of favor before the Pandora Project was started. She is a Pooka and can shape shift like the tales say, but in all honestly she prefers her more human-like shape. It's easier to flirt with the boys that way.
She also sells shiny things at The Shadow Grove Market and tea online: Dryad Tea on Etsy, Dryad Tea main website